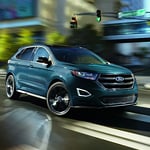 The Edge suits the lifestyle of families who need a five-passenger vehicle that offers the benefits of an SUV. The vehicles are designed for appearance and performance. The latest models are sure to attract attention.
The bold front end of the Edge boasts a wide, broad grille, which is flanked on either side by narrow headlights that veer back toward the side of the SUV. From the front, the Edge has a fierce appearance. Sharp lines travel along the side of the vehicle, which has an aerodynamic profile. The roof quickly slopes downward over the vehicle's rear.
Angled lines define the Edge's rear area. Narrow taillights sit higher in order to provide optimal visibility. All of the exterior lighting is powered by a series of LED bulbs. The interior is equally impressive. See and appreciate the looks of the new Edge at our Bob Utter Ford Lincoln facility. Take an SUV for a road test.