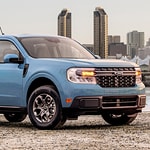 The Ford Maverick is a pickup truck that's been around since 2021. While the exterior may not have changed much, there's been plenty of action under the hood. Here's a look at what you can expect from the 2023 edition of the Ford Maverick.
Interior Tech Features
The 2023 Maverick has some impressive tech features on its interior. It comes with a standard 8-inch touchscreen infotainment system, which includes Apple CarPlay and Android Auto compatibility. There are also wireless charging pads and USB ports throughout the cabin to keep your devices topped up while you're on the go. For those who prefer physical controls, there are knobs and buttons for controlling audio volume, radio frequency, and climate settings. The power windows and rear under-seat storage compartments add a touch of functionality to the already top-tech design.
Exterior Features
While the exterior of the 2023 Ford Maverick looks largely unchanged from its predecessor, there are some new additions that set it apart. It has a sporty front grille and LED headlights to give it an aggressive look. The side mirrors have integrated turn signals for additional visibility on the road. The truck also comes with standard 17-inch alloy wheels, which can be upgraded to 20-inch wheels for an even bolder look.
The 2023 edition of the Ford Maverick is packed with premium technology and features, making it a great choice for those who need a reliable pickup truck that looks good. With plenty of tech and safety features, you can be sure you are investing in a next-generation automotive.